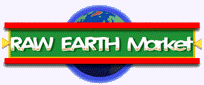 RAW EARTH Info
Body-Friendly Foods ~ Earth-Friendly Goods
!! Welcome to our information pages !! Below are some of the resources and information that all free thinkers should examine!!
---


We at RAW EARTH Market, think mandatory Almond pasteurization is WRONG!!! Review the information at the "Go Petition" website. If you agree, sign the petition!
---

This Health Revolution Petition calls for revolutionary changes in our health care system that encourage health and prosperity, instead of disease and corporate profit. The petition includes ten provisions that will be delivered to every member of the House and Senate as well as the office of President Barack Obama. Take a hard look at health concerns in America today, take a look at this petition.
Please take the time to review the full petition, at www.HealthRevolutionPetition.org
Here are the highlights:
1. Federal government encouragement and reward for the People taking personal responsibility for their own health
2. Restore Health Freedom to All Americans and Legalize Healing
3. End FDA Tyranny, Censorship and Corruption
4. Protect the Food Supply
5. Restore Honest Science to Medicine
6. End Era of Big Pharma Domination Over Health Care
7. Protect Children From Products That Compromise Their Health
8. Ban Man-Made, Non-Natural Cancer-Causing Chemicals in Cosmetics and Personal Care Products
9. Invest in Disease Prevention
10. Protect the Environment from Drug and Chemical Companies

This petition is endorsed by:
• NaturalNews.com and the Consumer Wellness Center (ConsumerWellness.org)
• The Organic Consumers Association (OrganicConsumers.org)
• The Life Extension Foundation (LEF.org)
• American Association for Health Freedom (HealthFreedom.net)
• Citizens for Health (Citizens.org)

To sign the petition, visit www.HealthRevolutionPetition.org
---

Stay with us as this site grows and matures. Please bookmark this page and come back often. We will strive to provide you with the best information to make decisions about products that you need for everyday life and about the foods you eat. We will examine legends, myths, "tried, tested and true", and the latest developments and trends in Body-Friendly Foods and Earth-Friendly Goods.
Tell us what info you are looking for! Feel free to email us at suggestions@rawearthmarket.com with comments or suggestions...